HOME >> smudging and cleansing tools >> Backflowing Incense cone and joss stick holders
handmade mosaic stained glass incense plates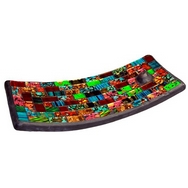 enlarge image
Mosaic Incense plates are hand crafted with Terracotta (a type of earthenware, is a clay-
based unglazed or glazed ceramic) cut glass pieces and painted to create the beautiful mosaic pattern.
An incredible amount of time and care goes into making these unique Mosaic Incense Plates.
These Mosaic Incense Plates are more than just very decorative Plates, they are very functional as a incense stick holders and can be used with incense cones as well.
With these designs and vibrant colours they are great item to create that special look and atmosphere in your home.
Size: 21 cm x 9.5 cm


POSTAGE STATED IS FOR THE UK, OUTSIDE OF THE UK PLEASE CONTACT US FIRST BEFORE PLACING YOUR ORDER FOR A SHIPPING QUOTE