Scottish Marble - healing and spiritual development properties
posted on 24 July 2016 | posted in crystal healing | ( 0 ) Comments

---



Marble is not a usual crystal that jumps to mind when we thing of crystal healing or spiritual development so curious me thought it would be a good one to explore here are some of my discoveries, but first a little history .....




What is scottish marble?


formed under the scottish ocean millions of years ago,

scottish marble is found today in the highlands and from the west coast islands of iona, tiree and skye

all of these islands are sacred, but Iona is well know to be a very sacred spiritual place infact its original name meant island of the druids,

needless to say it's a very special place to pagans and other spiritual practices to visit,

the survivors of Atlantis also knew of this place and many of their descendants lived on these highly spiritual Islands




How does Marble feel energetically

scottish marble feels very much energetically like preseli bluestone (stonehenge) not in vibration but in a similar vein to how i have previously worked with bluestone, to me it's like being able to tap into those ancient times and connecting with our ancestors and the land when i'm working with this crystal. I also feel this crystal possess a merlin energy which makes sense to me as he worked so much with the elements of nature and this is certainly a crystal of nature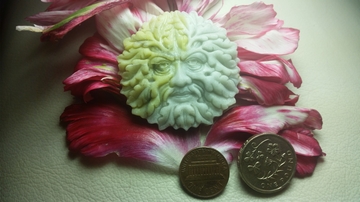 Mental & Emotional Properties for Marble
a useful stone for clarity and peak performance helping to improve patience and determination. very useful in your meditation practises helping to utilize the unused areas of the mind, gives strength to create more self control giving you mastery over your own thoughts for a more positive and serene outcome when changing your life or setting goals.
a balance & protection stone for the emotions helps to set forth the mindset to make improvements to make things better and also helps if your thoughts have been inflexible which has been holding you back working with marble can help you to become more pliable.
considered a lucky stone -scottish fishermen would not leave port without there lucky scottish marble
Marble Physical Healing Properties
sore throats, viral and bacterial infections
helps to increase flexibility , soothes lower back pain and helps with bone marrow disorders
if you are struggling to keep to find the determination to go to the gym this stone can help with that!
Spiritual Properties of Marble
A stone of magic and developing your own psychic "magical" skills in whatever form they take such as divination, astrology clairvoyance
helps connection to our distant ancestors to reconnect with ancient lost knowledge from a time where our race were more spiritual aware
we would love to hear of your experiences working with scottish marble please let us know how you got on
---
Share this blog entry:
You can follow other blog entries via the RSS feed. You can also leave your own response. Site administrator reserves the right to reject any replies that are deemed inappropriate.

Comments ( 0 ) - Add Your Comment
---