HOME >> Crystals >> S - Sapphire to Super seven
Himalayan Salt (halite) Star Tealight Holder- negative ions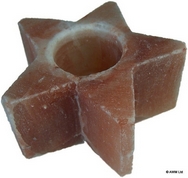 enlarge image
Himalayan Crystal Salt (halite) tea light Lamps when heated by a tea light create negatively charged ions in the air. Modern day pollution and electrical equipment creating positive ions in the air which are potentially harmful to our health

By using a Himalayan Crystal Salt Lamp you replace the negatively charged ions in the air which helps us to avoid the physical and mental harm that the positive ions creates.
negative charged ions help us feel healthier eases depression and have many health benefits. Other sources of negatively charged ions include waterfalls and the sea, with up to 10,000 negative ions per cubic metre opposed to just 100 negative ions per cubic metre in a busy city.

These lamps are approx H 6cm X D 9 W 11 cm, with a top hole to place a tealight inside.
very heavy approx 700g


Items are marked with sizes to give a rough idea of size only, they do vary as does the colour some are quite red and other paler . Each carving is unique.



POSTAGE STATED IS FOR THE UK, OUTSIDE OF THE UK PLEASE CONTACT US FIRST BEFORE PLACING YOUR ORDER FOR A SHIPPING QUOTE Not all our items are available for collection from our shop/therapy room please ask us when you make contact to make your appointment so we can make the item available to you if possible