Balancing Your Emotions With Aquamarine Crystal Healing
posted on 4 May 2019 | posted in crystal healing | ( 0 ) Comments

---
for me, Aquamarine has always reminded me
of looking into a vast ocean
in fact, its name means "water of the sea" and it clear the name fits this crystal perfectly, in ancient lore, it is said to be the treasure of the mermaids
In crystal healing Aquamarine is a water crystal, its main properties are emotional clearing and balancing
when working with any crystal the goal is always about balancing, and because its always about balance there are always at least two ways you could react to working with any crystal depending on where you are at that particular time?
now I don't mean location I mean, you on a personal level...
where you are mentally?
where you are emotionally?
where you are spiritually?
each one will create a different reaction leading you to a positive solution if indeed you are out of kilter.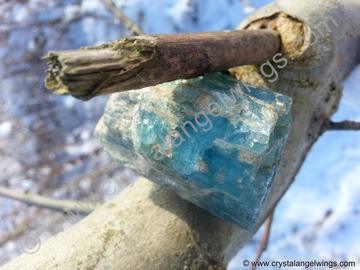 ROUGH SPECIMEN OF AQUAMARINE
Aquamarine For Balancing Emotions
If you're NOT in need of some sort of balancing right now (You lucky thing you!) then you will just experience a restful peaceful feeling from an Aquamarine crystal. I find it especially soothing under my pillow at bedtime when you`re needing to drift off to sleep and what a lovely nights rest you will have!
for the rest of us keep reading
Aquamarine is one of those crystals that I've had a few personal reactions with depending on where I am usually emotionally and somewhat mentally
I feel any emotion I have started to bury or that I may not have been allowing myself to feel, Aquamarine will soothe and balance our emotions depending on how unbalanced we have become will depend on how quickly we will return to our natural soul peaceful state
looking into this crystal reminds me of how deep our emotions flow and how we often bury them deeply in what we believe is a vast deep space where we can forget about them, never have to deal with these troubling issues and carry on, unfortunately often when we do this our emotions will unexpectedly well up raising to the surface when we least expect it and we have no option but to deal with troubling emotions often forgetting where this uncomfortable feeling originated from as its been locked away for so long. When this happens we can feel overcome with huge waves from upset and her companion sadness and often hopelessness finds a way of creeping in
- Most of us at some time in life for numerous reasons will need/have to put their feelings on hold but this is never a healthy long term solution at some point these emotions come back and if not dealt with in a manageable way they will bite us robbing us of seeing and feeling all the joy we could possibly have from our life experience
if the above is you right now I`m sorry you're experiencing this, you are not alone and you can get through this
Aquamarine is a great choice for you to work with right now to get you back onto the right road of new found balance & peace
There are much more healing powers attributed to Aquamarine and ways to work with this crystal for healing click here to read more (coming soon)
How Do I Use Aquamarine To Absorb Its Healing Powers?
There are a few ways to utilize the balancing powers of Aquamarine
Newbie
I would suggest working with the crystal for 5-10 min a day (or whatever time is comfortable for you) like a mini-meditation or just some- time you are able to sit and relax in a safe space and allow anything to flow up and out, you may feel very emotional and that's OK just let it go and know this is part of the healing and the process of returning you back to balance
Jewelry
you may wish to go a bit deeper and carry Aquamarine for longer periods of time (not recommended if you feel very emotional with the crystal see bedtime)
a pendant is perfect especially if you desire to benefit from the other HEALING PROPERTIES OF AQUAMARINE WHICH I HAVE WRITTEN ABOUT HERE. Fantastic stone for keeping the throat chakra clear and needing to speak calmly and from the heart when faced with difficult people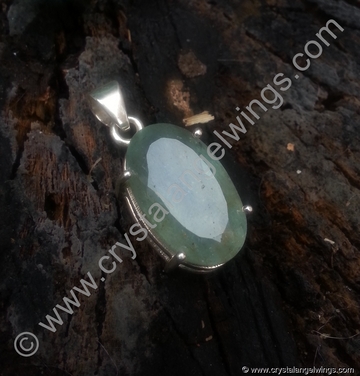 STERLING SILVER AQUAMARINE PENDANT
Working with Aquamarine At Bedtime
if your dealing with a lot of sadness you may wish to sleep with a peace of Aquamarine it will help with release before sleep and soothe afterwards like a comfort blanket helping you to get decent sleep, rubbing the crystal helps also when you just cant see things improving...it will though but things sometimes take more time than we would like them too.
Meditation
meditating with Aquamarine is a fantastic way to get in touch with the crystal and yourself (depending on your level of self/crystal awareness) Meditation can give you great insight for faster change
Once a problem comes into awareness, you are able to move forward into a state of healing and then on wards to balancing any issue emotionally troubling you Aquamarine will assist you on this journey!
To read my blog on my meditation with Aquamarine click here (will be available soon)
FOR OUR AQUAMARINE ITEMS AVAILABLE TO BUY CLICK HERE
---
Share this blog entry:
You can follow other blog entries via the RSS feed. You can also leave your own response. Site administrator reserves the right to reject any replies that are deemed inappropriate.

Comments ( 0 ) - Add Your Comment
---