HOME >> Candles and Burners >> candles >> chakra
Chakra Fragrance Dinner style Candle - SET of 7 candles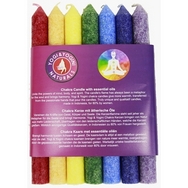 enlarge image
Chakra Fragrance Dinner Style taper candles - SET of 7 candles one for each chakra
palm oil candles With 3% pure essential oils.
candle Muladhara - Chakra 1 (red) Fragrance: Cassia, Clove, Nutmeg
candle Swadhishthana - Chakra 2 (orange) Fragrance: Cedar, Spruce, Rosemary
candles Manipura - Chakra 3 (yellow) Fragrance: Bergamot, Lime, Grapefruit
candle Anahata - Chakra 4 (green/pink) Fragrance: Lavandin, Orange, Tangerine
candle Vishudda - Chakra 5 (blue) Fragrance: Moroccan Rose, Camomile
candle Ajna - Chakra 6 (indigo) Fragrance: Lavender, Fir, Camomile
candle Sahasrara - Chakra 7 (purple) Fragrance: Patchouli, Labdanum, Frankincense

Burning time each candle: 8 - 9 hours per candle.

Dimensions21x2.2 cm

100% pure stearin (palm oil) marble texture.

In many traditions in our world, lighting a candle implies a sacred act, which means more than words can say; it is all about gratefulness. From time immemorial, man has been lighting candles in sacred places. Perhaps you would like to start or end your day with this simple ritual - just lighting a candle. Or it may be that you want to burn a candle for a friend... Most important is that you will do this slowly and with your full attention.
These stearin (palm oil) candles were hand-made in Indonesia.
By using certified palm oil and durable packing materials, these candles are an environment-friendly product.
As much as possible, production of the candles is done by hand; this way offering a guaranteed job for as many people as possible. Eighty percent of the employees is female.

The candles have a clean & lengthy burning time.

healthy alternative to paraffin candles
certified palm oil from
http://www.greenpalm.org

POSTAGE STATED IS FOR THE UK, OUTSIDE OF THE UK PLEASE CONTACT US FIRST BEFORE PLACING YOUR ORDER FOR A SHIPPING QUOTE Not all our items are available for collection from our shop/therapy room please ask us when you make contact to make your appointment so we can make the item available to you if possible