HOME >> Crystal Singing Bowls >> Tibetan Singing Bowls
Tibetan singing bowl Chö-pa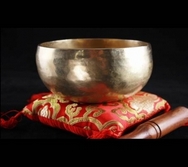 enlarge image
Singing bowl Chö-pa
A classical, hand hammered singing bowl, with its own unique sounds.
Composed of 8 (noble) metals: Copper, Tin, Nickel, Zinc, Iron, Lead, Mercury, Silver.
The percentages of the 8 metals, the diameter and the thickness of the different types singing bowls creating their own unique sound and overtones from each singing bowl.



singing bowl rubbing stick and singing bowl cushion available separately
Something to consider before buying a singing bowl
Your perception of the sound from an individual singing bowl can change based on your mental state, mood or even energy level. You may not have the same response all the time. The best way to buy a bowl is to be able to hear the tone,We welcome viewing at our premises if you would like to play the bowl for yourself or be be shown how to play (contact us to make an appointment). We also sell a number of bowls by playing them over the phone or by Skype demonstration if you're not able to travel
Dimensions± 12 cm
Weight± 375-425 g



How singing bowls are made




Beaten or hand hammered singing bowls are made entirely by hand. Each singing bowl is carefully hammered by hand, which requires several steps. Initially, the various compositions of raw metals for the preparation(copper, tin, nickel, zinc, iron, lead, silver and mercury), are melted in the furnace,

according to the manufacturing requirements of either bronze, eight metals singing bowls and so forth. The hot melted metal is removed from the furnace and poured into different sized gully cups and cube shapes. Then, the metal moulds are rolled out into circular metals sheets of the required size and thickness.

The sheets are then hammered according to precise measurement specifications and categorized according to weight and size. For the hammering process, 4 to 5 metal sheets are stacked and then heated at very high temperature. The red hot metal sheets are hammered by a group of skilled craftsmen until the heat in the metal cools. This process is repeated several times to form the desired size and shape of each singing bowl.

(This is the reason for the fluctuations in the size and hand hammered singing bowls). Only if the meal glows red, can it be hammered. Actually, once cool, it loses its flexibility, becoming more fragile, and therefore risking the formation of cracks when struck.When the desired shape is achieved, the individual process of finely tuning and shaping each singing bowl begins. Finally, the individual singing bowls can now be engraved and the inner and outer surfaces smoothed flawlessly.



POSTAGE OUTSIDE OF THE UK PLEASE CONTACT US FIRST BEFORE PLACING YOUR ORDER FOR A SHIPPING QUOTE ...UK POSTAGE CAPPED AT £15... NO MATTER HOW MUCH YOU BUY (exclusions apply on a small range of items) ******FREE UK DELIVERY WHEN YOU SPEND £40 OR OVER.... ON TUMBLESTONES ONLY********