HOME >> Essential oil
Tangerine Essential Oil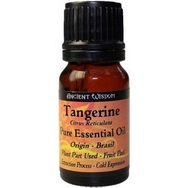 enlarge image
Tangerine Essential Oil 10ml
Latin Name : Citrus Reticulata.
Part of Plant Used : Fruit Peel.
Extraction Method : Cold Expression.
Tangerine essential oil like most citrus based oils have high levels of Limonene which is antimicrobial, antibacterial and is a powerful antioxidant
Our cold expressed tangerine oil typically has higher levels of limonene and small amounts of Myrcene. Myrcene has anti-inflammatory and pain relieving properties.
Tangerine extracted in this method contains a host of chemical compounds such as alpha pinene, limonene, linalool, citronellal and camphene.
what can i USE tangerine oil for......

To disinfect and clean wounds, you can apply the oil directly to the affected area . By applying tangerine essential oil you can also help reduce swelling and redness of the affected skin.
stimulate the generation and growth of new skin cells. tangerine oil makes it especially useful for aging or mature skin that needs rejuvenation and can also help speed up the healing of skin damaged by burns
It can be added to a suitable carrier oil to make a soothing massage blend. (

Recommended carrier oils for this purpose are virgin coconut oil, jojoba and sweet almond.)
It can be diffused to fragrance a room and uplift your mood, (certain diffuser machines are known to be damaged by citrus essential oils

so please check your manufacturer's instructions before you try it.)
Dilute a few drops with your chosen carrier oil and rub it into any cellulite marks that you want to get rid of.
Would you like to clean & disinfect your home without harmful chemicals, add a few drops of tangerine oil with clean water and apply the mixture to your cleaning cloth then wipe surfaces as normal not only will you have clean surfaces but they will smell good enough to eat off! .
Tangerine essential oil is generally considered safe, non-toxic & non-irritating but care is still needed when working with any type of essential oils.
Pregnant women should always consult their health professional before using essential oils.

Always dilute it with a suitable carrier oil before applying to the skin.
Even after dilution, do a patch test on a discrete area of skin to ensure that you do not have a reaction.

Like most citrus essential oils, tangerine oil is phototoxic and you should never expose any skin you have treated with citrus oil for at least 48 hours after application . Any citrus

essential oil contain compounds that react to UV ray exposure and exposure could lead to inflammation, blistering or burned skin.


POSTAGE OUTSIDE OF THE UK PLEASE CONTACT US FIRST BEFORE PLACING YOUR ORDER FOR A SHIPPING QUOTE ...UK POSTAGE CAPPED AT £15... NO MATTER HOW MUCH YOU BUY (exclusions apply on a small range of items) ******FREE UK DELIVERY WHEN YOU SPEND £40 OR OVER.... ON TUMBLESTONES ONLY********