HOME >> Jewellery cupboard >> Pendants >> Crystals
Spiral Chakra pendant 7 mineral stones silver-plated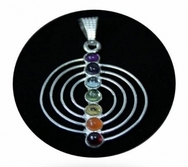 enlarge image
Properties
Dimensions:

5 cm
Description
Spiral Chakra pendant with 7 mineral stones - brass wire silver-plated
Semi-precious stones:
Amethyst - violet
Iolite (Water-Sapphire)- indigo
Aquamarine or Lapis Lazuli - blue
Peridot - green
Citrine - yellow
Carnelian - orange
Garnet - red
In terms of spirituality, the spiral symbol can represent the path leading from outer consciousness (materialism, external awareness, ego, outward perception) to the inner soul (enlightenment, unseen essence, nirvana, cosmic awareness). Movements between the inner (intuitive, intangible) world and the outer (matter, manifested) world are mapped by the spiraling of archetypal rings;marking the evolution of humankind on both an individual and collective scale.
in terms of rebirth or growth, the spiral symbol can represent the consciousness of nature beginning from the core or center and thus expanding outwardly.
Summary of Symbolic Spiral Meanings
Balance
Progress
Direction
Initiation
Centering
Expansion
Awareness
Connection
Journeying
Development


POSTAGE STATED IS FOR THE UK, OUTSIDE OF THE UK PLEASE CONTACT US FIRST BEFORE PLACING YOUR ORDER FOR A SHIPPING QUOTE