Shattuckite Crystal Healing & psychic development Properties "clairvoyants crystal"
posted on 19 August 2016 | posted in crystal healing | ( 0 ) Comments

---
shattuckite is an unusual crystal in that most of its healing properties are useful for those wishing to advance psychically and intuitively especially useful for developing mediums "a clairvoyants crystal "or anyone working with spirit on a communication level
if you are wishing to find one all rounder crystal that can really assist this bumpy but ultimately rewarding journey then look no further than a piece of mottled shattuckite.
What is is and where is it from?
shattuckite or shattukite is named after the shattuck mine in arizona where it was originally found, it has now been found in numerous places around the world including Britain!
shattuckite is usually a very mottled stone of different colours from the whole shade spectrum of each colour of green, blue and often has brown in the mix. the lighter green shades work with the heart chakra
light blue with the throat chakra and the vivid dark blue with the third eye
shattuckite is a very unusual and uncommon form of copper highly praised for the vivid blue specimens which are generally more expensive than the specimens that have smaller amounts or lighter hues.
It crystallizes in the orthorhombic crystal system
it feels a little strange to the touch - a bit dry but also silky. on the hardness scale its around 3 so can be very brittle so needs to be protected especially if you have a thin piece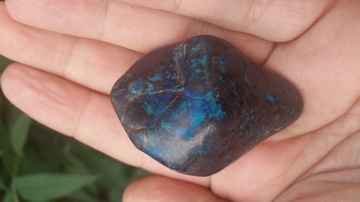 Psychic /Spiritual Properties Of Shattuckite
shattuckite is a wonderful stone when you're wishing to open up your psychic channel for spiritual workings,
its also useful if you are subjected to hostile energies as it is considered to have some protective powers against hostile foreign entities, it also prevents unwanted spirit possessions when channeling as it only facilitates high vibrational energies.
Shattuckite helps one to become a clearer channel when communicating with spirit its also a favoured crystal by those that practise automatic writing to enhance the speed and quality of the information being received. those wishing to commune and channel information from ET`s also work with this crystal
Shattuckite can be used in crystal healing for removal of barriers and energy blockages from the past.
As a stone capable of reaching high frequency vibrations it's the natural choice for those wishing to work with guides it is said to be
a helpful tool for attracting pure spirits and spiritual guides. because of this those wishing to work with this stone for developing psychic vision, telepathy and channeling will find great assistance.
Shattuckite Physical Properties
It brings the body back into balance if you have been affected by minor stressful influences.
used for the management and treatment of diabetes,balances out blood sugar levels. stimulates the absorption of calcium, vitamins and minerals from your diet.
Shattuckite colour is primarily associated with the throat chakra and is known for helping us to speak clearly especially when one has to speak publically and to speak the words that are given to us by spirit, it connect the third eye to the throat chakra allowing clear communication from spirit to be moved forward to the throat so you can deliver the message you received from spirit
Mental & emotional Properties of Shattuckite
calms the mind
if your needing to remember huge volumes of information and this ability does not come naturally to you, grab a piece of shattuckite, this is why shattuckite is such a valuable stone when working psychically as it helps you to make sense of your experiences.
gives you inner strength and courage to carry on in when you find yourself in adverse conditions
when you're not sure of how your actions are going to pay off for yourself or even if they will pay off at all shattuckite will help you get to the bottom of the situation.
Channeled sources have said that this crystal is good for cell division repairing genetic information and genetically transmitted diseases
helpful for reconciliation in relationships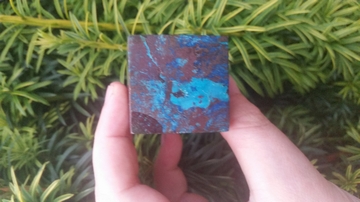 How to cleanse & charge shattuckite?
i was always taught that a crystal that ends in "ite" are not to be cleansed using the water method but on saying this when i tuned into my shattuckite crystals this is what they wanted.
energetically
my crystals felt wonderful after being left out to rest in the rain and then followed by a sunny summers day
i personally leave my pieces of shattuckite out in the rain, sun & moon for the powerful trio cleansing and charging properties and ive not had any problems using this method.
crystals that work specially well with shattuckite
Shattuckite is also one of the minerals included in the mix of Quantum Quattro Silica.
shattuckite works well with its close sister stones that contain copper like chrysocolla and malachite
combine with arfvedsonite when you feel you are being deceived to discover the truth .
for psychic development labradorite, lapis lazuli, dumortierite and phenacite and Arfvedsonite will also help your continued development for your third eye and throat chakra
Here at Crystal Angel Wings we love hearing your experiences with your crystals so do let us know how you get on working with these crystals for healing and psychic development
to view our current range of shattuckite please
click here
---
Share this blog entry:
You can follow other blog entries via the RSS feed. You can also leave your own response. Site administrator reserves the right to reject any replies that are deemed inappropriate.

Comments ( 0 ) - Add Your Comment
---