HOME >> Essential oil
Rosemary Essential Oil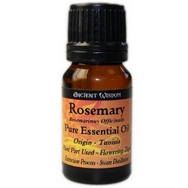 enlarge image
Rosemary Essential Oil 10ml
with its distinctive woody fragrance rosemary has been used for centuries for a variety of health and beauty benefits prized for it ability to strengthen the whole body
Latin Name : Rosmarinus Officinalis.
Part of Plant Used : Flowering Tops.
Extraction Method : Steam Distillation.
Scientific studies have shown that rosemary essential oil helps your brain perform so if you have to study smelling rosemary

essential oil will help memory recall and performance on tests so good for exams. Interestingly but not

surprisingly to me personally

, it also showed that groups that inhaled either

rosemary or lavender

essential oil felt much more relaxed than those who inhaled no scent at all.
Alzheimer's patients can benefit from rosemary's fabulous scent too. a study of using the oil has shown that one month of aromatherapy involving rosemary, lemon, lavender and orange essential oils helped enhance cognitive function in participants, especially those suffering from this particular form of dementia.

For full benefits, diffuse the oil through your room, inhale directly or rub over your temples.
Rosemary is also good for hair preparations, oily/acneic skin, and using cleaning products


POSTAGE OUTSIDE OF THE UK PLEASE CONTACT US FIRST BEFORE PLACING YOUR ORDER FOR A SHIPPING QUOTE ...UK POSTAGE CAPPED AT £15... NO MATTER HOW MUCH YOU BUY (exclusions apply on a small range of items) ******FREE UK DELIVERY WHEN YOU SPEND £40 OR OVER.... ON TUMBLESTONES ONLY********