HOME >> Pagan /wiccan Goddess /God items
Pentagram Cast Iron Cauldron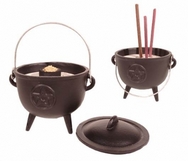 enlarge image
Cauldron with pentagram embossed symbol
Made of cast iron with carry handle.
This a working tool that any wiccan or witch could not be without , this cauldron is not a cheap imitation toy but a real sturdy working tool, you dont have to be pagan or belong to any belief system to work with a cauldron anyone that feels drawn to working with a cauldron can, they are particularly useful for any type of ritual that requires the assistance of fire.
The Cauldron is used for rituals like incense burning.
We advise to fill the Cauldron with silver sand for charcoal burning which is available here, and it is very useful for burning any kind of incense.
Important information please read before buying
The photo shows suggestions on how you may use a cauldron the listing is for the cauldron only
please also note that these are hand crafted items some may have slight imperfections that were created in the casting process they still work just as well, to some individuals these imperfections add to the uniqueness of their cauldron, if you would not like to receive one like this please contact us so we can check your item before posting.
The Cauldron is very stable on 3 legs.

Specifications:
Cast iron, black.
Dimensions12x9.5 cm
Weight1080 g



POSTAGE OUTSIDE OF THE UK PLEASE CONTACT US FIRST BEFORE PLACING YOUR ORDER FOR A SHIPPING QUOTE ...UK POSTAGE CAPPED AT £15... NO MATTER HOW MUCH YOU BUY (exclusions apply on a small range of items) ******FREE UK DELIVERY WHEN YOU SPEND £40 OR OVER.... ON TUMBLESTONES ONLY********