HOME >> Witches /Wicca's ritual tools and supplies
Mugwort Incense herb - spell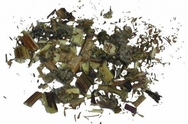 enlarge image
Plants of the Gods incenses are sold in bags of 30 ml -glass bottles are available if you prefer (please contact us)

FREE DELIVERY IN THE UK ONLY (PLEASE CONTACT US IF YOU ARE OUTSIDE OF THE UK)
Mugwort ( Artemisia Vulgaris).
Element of fire - works best on the body.
Fortifies male sexual desire and protects against negative influences.
Stimulates courage.
mugwort is associated with divination and dreaming. If someone has overactive dreams,
To bring about prophecy and divinatory success, burn mugwort in your workspace, or use it to smudge around the area in which you are performing divination rituals.
Mugwort is often associated with the female reproductive system, perhaps because of its associations with the moon, and can be used to bring on delayed menstruation.
These kinds of incense are to be used in purification rituals, like the elimination of negative energies which may block the energy flow, in the living space as well as in a person's Aura. Also excellent incense for witches & shaman's rituals. Works also against mosquitos.
In Eastern therapies, in traditional Chinese healing as well as in Japanese & Korean acupuncture, mugwort is being used for ages to give heat to the body. This is called moxibustion. For this purpose, dried and pulverised mugwort is being set on fire. This is called "moxa". In China they do not name this acupuncture, but Zhen Jiu, which literally means stabbing (of needles) and burning (of moxa). For these applications, moxa is available in various forms, like dried leaves, pressed into a cigar-like shape, and such.





Natural incense to use for various purification rituals and/or to clear obstacles from the aura. Intended for burning on charcoal on a special incense burner


POSTAGE OUTSIDE OF THE UK PLEASE CONTACT US FIRST BEFORE PLACING YOUR ORDER FOR A SHIPPING QUOTE ...UK POSTAGE CAPPED AT £15... NO MATTER HOW MUCH YOU BUY (exclusions apply on a small range of items) ******FREE UK DELIVERY WHEN YOU SPEND £40 OR OVER.... ON TUMBLESTONES ONLY********