HOME >> Energy Treatments and Massage Therapies
Crystal Healing Therapy Session
Using her knowledge and expertise of crystals, meditation and energy systems, Tracy is able to intuitively read your energy fields with the assistance and direction from her and your spiritual guides, to perform a completely unique and bespoke healing treatment this may also include psychic surgery where needed.
Tracy works to clear on a very deep molecular healing level, using her expertise and knowledge she is guided always by you the client to gain access to the very root cause of a problem by directly interacting with your true inner self.
when this happens it enables profound healing of past negative experiences or thought forms to be released, allowing you to clear, accept and find a deep sense of peace within yourself.
Knowing that your past no longer needs to shape your future, the very essence of your purity will be able to blossom and shine.
Crystal Healing Therapy clears and helps to heal a huge variety of conditions whether they be physical, emotional, spiritual or mental, including:
Deep relaxation
Panic attacks
Pain management
Digestive disorders
Cancer sufferers
Stiff and achy joints
Addictions and abuse
Conceiving
Depression & grief
Headaches, Migraines,
ailments & illness
Releasing Traumas
Relationships and sexual problems
Past Life and present life
pregnancy
(lovely lorna is the model in our third photo who was pregnant throughout her course of crystal sessions)
This list is only a small example of the conditions that Crystal Therapy can help with, for a specific enquiry please don't hesitate to contact Tracy, where she will be happy to advise.
After a healing session Tracy will spend time with you to help you move forward and extend your healing session beyond your personal one to one treatment by helping you to set up a maintenance program, during a crystal healing deep and sacred sources are accessed laying the foundations for changes to occur the most profound healing takes place when you are 100% committed to healing your mind body and soul, let Tracy assist you with your sacred journey
All sessions take place in a lovely relaxing healing room which we lovingly call "crystal cave" as there are a few crystals around ;)
Tracy is located near Doncaster south yorkshire, mobile treatments and distance healing treatments are also available
How Do Crystals Heal
A brief description of how crystals help to heal us. Crystals emit vibrational energy and it is this energy that can be used to help treat the body, mind, spirit and emotions. We each have many vibrational energies, our physical body has thousands of them and this can very easily become unbalanced. As crystals have a geometrically perfect structure they don't become unbalanced as we do they have less vibrations to keep balanced and therefore can help to entrain our energy with their own, our bodies and energy centres recognises and receives these energetic energies resulting in balance being restored. Each specific crystal has it's own unique energetic vibration and can be used in the treatment of a very diverse range of issues
Conscious recognition of the energy exchange is not always apparent as it can be quite subtle. some my feel Sensations such as tingling, temperature changes can sometimes be felt as the body gently realigns itself. Each crystal has its own unique signature of energy, for example Tigers Eye will promote feelings of confidence, courage, pride, success and combat any negative sensations regarding these strengths which may be causing imbalance or restriction within the mental or emotional well being of the individual.
Our energy body, which is called our aura, and our energy centres, called our chakras, can so easily become unbalanced or blocked, and if left, can manifest in our physical bodies as illness. Crystal therapy uses the energies from the crystals to help return us to a balanced state.
Correct placement of crystals on the body will promote emotional and mental harmony. During this state of equilibrium, inner harmony, the body has the perfect conditions to naturally heal itself, producing healthy re- growth of tissue and cells.
to read more about how crystals can be used for healing
click here
How is the therapy administered?
Crystal Therapy is non invasive and extremely relaxing. You will be fully clothed for the session, you will only be asked to remove your coat and shoes. Crystals are placed on the body and surrounding area to create a wonderful sense of calm, stillness and well being in a relaxed and caring environment for healing to take place.
*photo is from a mobile healing session with Chris, read about his first experience of crystal healing with Tracy further down the page*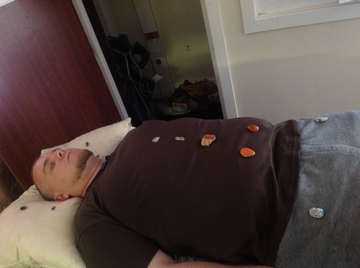 We offer a few options for crystal healing all are profoundly relaxing and healing and work with your guides to ensure the healing is for your highest good




Crystal healing




The hibiscus moon method










A profoundly relaxing treatment, Tracy will create a light column around the client, to start the healing process a joint meditation between Tracy and the client where the client will follow a couple of breathing instructions and visualizations , then crystals are placed gently on the client body, chakras will be assessed for any blockages or over activity, which will then be treated to bring the chakra system back into harmony and balance







crystal blast




This is the most popular treatment as the treatment allows time for a chance to voice how you really feel and be heard, then the laying on of crystals for the truly deep and clearing energy therapy, and again allowing time at the end to discuss the treatment in depth, what was seen and how this can be released to allow true healing.




This treatment lasts over 2 hrs




Crystal Taster Session




This is a lovely introduction to crystal healing; the treatment includes a chakra diagnosis and a chakra balance and clearance.




Treatment lasts 30 minutes






















client testimonial from Chris this was his experience of his first ever crystal healing session with Tracy, he is also the gentleman that features in the treatment photos from when Tacy was a portable healer (mobile)




When we started I went into a meditation to relax myself, I could feel your energy coming from your hands as you was going over me, when you put the crystal on my head I could see a triangle in my minds eye that had a prism like colour spectrum from top to bottom, I could feel you putting more crystals on me and after this seemed to relax me a lot sending me deeper into meditation, I could feel my shoulder blades start to ache, I asked that the healing be for my back like you explained to me before we started so it sort of made sense I was feeling things in my back, I was also experiencing a bit of upset stomach nothing bad but just the feeling off it, the energy in my hands was flowing and I could feel it was to do with what you was doing.

I feel the crystal healing effected me spiritually more than physically although it has seemed to have a knock on effect on body as well, I feel more energised and motivated to do things and my mind feels clearer to think on things and not get stressed.




Chris East -West Yorkshire 2013






POSTAGE STATED IS FOR THE UK, OUTSIDE OF THE UK PLEASE CONTACT US FIRST BEFORE PLACING YOUR ORDER FOR A SHIPPING QUOTE Not all our items are available for collection from our shop/therapy room please ask us when you make contact to make your appointment so we can make the item available to you if possible