HOME >> smudging and cleansing tools >> incense sticks and cones
Tulasi Go Away Evil Incense Sticks bulk offer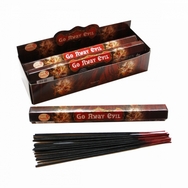 enlarge image
free delivery to the uk only
These Tulasi Go Away Evil Incense Sticks create a unique aroma that will surely inspire and improve any home or space that is experiencing any type of negativity that is being directed there or from normal day to day interactions that can block the energy flow making it start to feel heavy.
The top quality fantasy inspired Tulasi Esoteric range of incense sticks is filled with wonderfully blended fragrances and inspiringly packaged aromas.
To release the fragrance of your Tulasi incense stick just light the tip and wait for it to glow. Blow out the flame and place in an incense holder and let this unique fragrance make its way throughout your home.
Tulasi Go Away Evil Incense Sticks
Hex pack of dipped incense sticks
Contains 20 incense sticks approx
Made from perfumery raw materials only
Packaging is recyclable
For best results place in an incense holder
Burn time 30 minutes approx. per stick
6 boxes of 20 special offer






POSTAGE STATED IS FOR THE UK, OUTSIDE OF THE UK PLEASE CONTACT US FIRST BEFORE PLACING YOUR ORDER FOR A SHIPPING QUOTE