HOME >> Candles and Burners >> candles >> chakra
Long Burning Chakra Essential oil Fragrance Candles with essential oil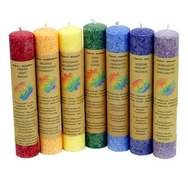 enlarge image
Properties
With 3% pure essential oils - colours & fragrances:
Burning time: 12 - 14 hours.


100% pure stearin marble texture.
Pricing is per candle.
Dimensions:

approx

21 x 4 cm


Description
chakra colours & fragrances:
Root chakra Muladha
ra - Chakra 1 (red) Fragrance: Cassia, Clove, Nutmeg
Sacral chakra
Swadhisthana
- Chakra 2 (orange) Fragrance: Cedar, Spruce, Rosemary
Solar plexus Manipura - Chakra 3 (yellow) Fragrance: Bergamot, Lime, Grapefruit
green is the color of the fourth chakra the heart burn these candles with unconditional love and compassion for yourself and others they smell absolutely divine!
Heart chakra Anahata - Chakra 4 (green/pink) Fragrance: Lavandin, Orange, Tangerine
Throat chakra Vishudda - Chakra 5 (blue) Fragrance: Moroccan Rose, Camomile
Third eye chakra Ajna - Chakra 6 (indigo) Fragrance: Lavender, Fir, Camomile
Crown chakra Sahasrara - Chakra 7 (purple) Fragrance: Patchouli, Labdanum, Frankincense


Its very important to us here at Crystal Angel Wings that we source where possible environmentally friendly and fair trade items
These stearin (palm oil) candles were hand-made in Indonesia.
By using certified palm oil and durable packing materials, these candles are an environment-friendly product.
As much as possible, production of the candles is done by hand; this way offering a guaranteed job for as many people as possible. Eighty percent of the employees is also female.

The candles have a clean & lengthy burning time.
Hand-Made Candles, made according to Fair Trade principles


Handmade means more hands, more jobs, less crime and a happy village. So, we hand mould, pour and craft wherever possible. Hand made candle are, by nature, bringing more passion, transferred from the passionate hand that pour the candle for more luxury and richness.

Humane Working Environment:
This will be achieved by maintaining ethical and moral working conditions and policies, and also providing work opportunities for local people.

Natural:

In our candle making process we could use second grade and used materials, both are cheap and abundant. Instead we hunt for the highest grade, untainted, and more expensive ingredients that nature could offer.

Sustainability:

We believe and respect sustainability. For this, we will use as much as sustainable resources whenever possible.

This is our promise we make to ourselves and to you:

To use natural and naturally derived ingredients and materials wherever and whenever possible.
To avoid using any ingredients that have been tested on animals.
To be sensitive and responsible in our impact on the environment.
For these reasons we also only buy our materials from selective, respected companies that are willing to share the same passion on sustainability
Our stearin comes from: http://www.greenpalm.org/



POSTAGE STATED IS FOR THE UK, OUTSIDE OF THE UK PLEASE CONTACT US FIRST BEFORE PLACING YOUR ORDER FOR A SHIPPING QUOTE