HOME >> Essential oil
Lavender Essential Oil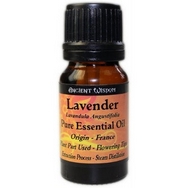 enlarge image
Lavender Essential Oil 10ml
Latin Name : Lavandula Angustifolia.
Part Of Plant Used : Flowering Tips.
Extraction Method : Steam Distillation.
Lavender essential oil is a must have for anyone's aromatherapist medicine chest or bag for when you're on the move!
the most versatile of all essential oils. Most commonly known for its relaxing effects on the body, good for headaches. therapeutic-grade lavender has been highly regarded for the skin. It may be used to cleanse cuts, bruises and skin irritations. The fragrance is calming, relaxing and balancing – physically and emotionally
swollen or itching insect bite and stings use a drop of Lavender oil to reduce the swelling and stop the itching .

Add a few drops of Lavender to pillows, bedding, or bottoms of feet for a restful night's sleep.

Keep a bottle of Lavender on hand for minor and occasional skin irritations.
Freshen your linen closet, mattress, car, or the air by combining Lavender with water in a spray bottle.
Add a few drops to bath water to soak away stress & headaches or apply to the temples and the back of the neck to ease muscle tension.
Lavender can help you to feel more grounded and focused, helping you concentrate and think clearly
Diffuse pure lavender oil in the air or inhale directly for at least 30 seconds as needed to manage mood.






Sleep Time pillow Spray:

Fill 4oz glass spray bottle with 3 drops Lavender, 3 drops

Wild Orange

, 2 drops

Roman Chamomile

and witch hazel. Spray on linens before bedtime to promote restful sleep.






POSTAGE OUTSIDE OF THE UK PLEASE CONTACT US FIRST BEFORE PLACING YOUR ORDER FOR A SHIPPING QUOTE ...UK POSTAGE CAPPED AT £15... NO MATTER HOW MUCH YOU BUY (exclusions apply on a small range of items) ******FREE UK DELIVERY WHEN YOU SPEND £40 OR OVER.... ON TUMBLESTONES ONLY********