HOME >> wizards and witches >> Herbs, potions and spells
120 Pages Out of Of An Old Book of Shadows, spells etc





[check ratings]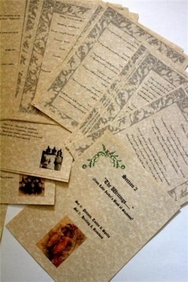 enlarge image
PLEASE NOTE - THIS BOOK IS AVAILABLE IN TWO FORMATS ONE IS ELECTRONIC PDF AND THE OTHER ON PARCHMENT PAPER PLEASE ADVISE IF YOU WOULD LIKE THE PRINTED VERSION
A very rare opportunity here to own something special.. as you may know a book of shadows to a wiccan or witch is a very private book and is generally not shared with others,
we are really honoured here at Crystal Angel Wings to be able to offer you some of the writings and experiences from an experienced victorian era witch,
she was quite well known in her time and well thought of and others often visited her for healings and spells, her great great granddaughter who is also wiccan has decided to share some of her great great grandmothers writings.
this would be interesting for anyone wishing to try out some tried and tested spells, anyone interested in the wiccan world and rules and what it means and how wiccans worked in times past
we have split the "book" into 6 sets please note it is not a book we are selling, its pages from her original book printed on high quality parchment paper.
there are over 120 pages in total with some freebies added in for your enjoyment
we love to spread the joy vibe!
SET 1: Spells pertaining to;
40 spells for Love, Luck, Money, Dreams, Protection, Beauty and more! A few examples are; Attracting Love, Keep your Lover Truthful, Gambling Luck,
Three Wishes, Home Protection, Family Unity, Happy Dreams and so many more! plus moon info and more.
SET 2
includes spells for happiness, urgent money spell, cure baldness, health and vitality, prosperity, good night's sleep, ward off the evil eye, dating,
high energy, getting justice, success and charts, superstitions and omens,
SET 3
includes spells for love charms, magikal cures, wealth, conceiving children, insure healthy birth, reverse a losing streak, wish come true, money,
legal protection, pet safety avoid divorce, end depression, reciprocation of love, lust, home security and more...deciphering dreams, essential oils, etc.
and as an added BONUS you will also receive the Kitchen Spell Charts of food that can be used in magic!
The Secrets of the Wicca is the core section of this Book of Shadows.It includes much more than spells.
This is Section 2; and contains sets 4, 5 & 6.
Set 4 will consist of potions, tonics and spells. Some examples are; potions for protection from nightmares, a rare love potion, happy potion/tonic, change of life potion/tonic,
energy tonic, spells to protect the home, good riddance to a third party spell, good luck spell, happy home spell and more.
Set 5 consists of healings and remedies. These are the original recipes that were used by a wiccan in victorian times, she firmly believed in and used to heal the ills of others.
End toothache pain, relieve heartburn, pass kidney stones, remedy for bedwetting, stop nosebleeds, lower blood pressure, cure the hiccups, calm an ear ache, are just a few.
While there is nothing "magikal" about these remedies they do come from her Book of Shadows and her wiccan descendant agrees that they belong in it.
Set 6 consist of writings that will educate you on; becoming Wicca, What "tree" are you?, the Basic Wicca Circle, Colors and Candle Magick and the Wicca Days of the Week for
certain spells, doings and/or offerings as well as the Eight Sabbats.
As an added special bonus I am including the reflections and observations of various aspects of life from a victorian wiccans original writings and papers.



POSTAGE OUTSIDE OF THE UK PLEASE CONTACT US FIRST BEFORE PLACING YOUR ORDER FOR A SHIPPING QUOTE ...UK POSTAGE CAPPED AT £15... NO MATTER HOW MUCH YOU BUY (exclusions apply on a small range of items) ******FREE UK DELIVERY WHEN YOU SPEND £40 OR OVER.... ON TUMBLESTONES ONLY********
General service feedback from our customers who bought this item
[3.5 = Satisfactory]